Venue
The conference will be hosted by TU Wien's Faculty of Architecture and Urban Planning. It will take place in the newly-renovated "Getreidemarkt" campus, in the last floor of the newly-built plus-energy office building BA.
Conference Location "TUtheSky"
The conference space "TUtheSky" (Getreidemarkt 9, 1060 Vienna, Building BA, 11th floor) features a multifunctional presentation room and two large terraces overlooking the old historical city as well as modern Vienna.
Photos (C) TU Wien Alumni Club and TUniverCity2015
Address
Nearby Accommodation
Motel One Opera is located just two minutes of our conference venue. Prices start at 81 € per night, thus a very reasonably-priced choice. Its location just at the Vienna State Opera furthermore makes this an ideal choice for people who like to explore the old city center by foot.
Motel One Vienna Opera (C) Martin Metzenbauer
The State Opera just opposite Motel One (C) wien-ticket.at
Address
Book
Click here to visit the Motel One Opera Homepage (opens in new tab)
The Wombat's Hostel at Naschmarkt is a hostel situated just 5 minutes from the conference venue, in the famous "Naschmarkt" district which features a typical turn of the century market with Jugendstil Architecture, a vibrant nightlife with nice bars and coffehouses, theatres such as the Theater an der Wien (where the Magic Flute of Mozart was first performed) and much more. Wombat's offers everything from a private two-bed room at 81 € (which is the same rate as Motel One, by the way) over 3- and 4-bed private room (€ 96 and € 106 per night) to the classic "bunk bed mixed dorms" (3-7 beds) which can be as little as 20 € per night. The Hostel is very clean, but be prepared for some serious party-making as most international guests will not be on a conference.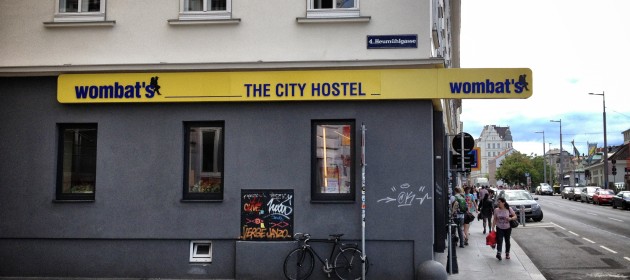 Wombat's Naschmarkt (C) twobadtourists.com
Naschmarkt Market (C) metropole.at
Address
Book
Click here to visit Wombat's Hostel Naschmarkt's Homepage (opens in new tab)
Let's not talk about money with this one, let's rather talk about design: The Meridien is situated in a newly-refurbushed turn-of-the-century "Gründerzeit" house at the "Ring" - i.e. the street surrounding the old city center. It features design and luxury including a rooftop terrace, fitness, dining and so forth, as well as meeting rooms. It is situated five minutes from our conference venue away. Prices start at around 200 €, as would be expected from a hotel at this class.
Le Meridien (C) gastronews.wien
Rooftop Terrace at Le Meridien (C) tripadvisor
Address
Book
Click here to visit Le Meridien's Homepage (opens in new tab)
Other Accommodations
Vienna has an excellent public transport system, most of all: the U-Bahn (Metro) which arrives every three to five minutes, depending on the time of the day. Since our conference venue is situated at "Karlsplatz", Vienna's largest Metro station, you might wish to also look for accommodation a bit more outside the city center, close to a metro station of U1 ("red" metro line), U2 ("purple" metro line) or U4 ("green" metro line).
The newly-built central train station of Vienna forms a new upstriving quarter. The Metro U1 connects the train station to the city center ("Karlsplatz" station) in as little as five minutes. Therefore, it might be a good choice to also consider the Motel One Central Train station, if for example the Motel One at the Opera is full. Prices start at 81 € per night, same as the Motel One at the Opera.
Motel One Vienna Central Train Station (C) holydaycheck.com
Rendering of the Central Station Quarter (C) City of Vienna
Address
Book
Click here to visit Motel One Central Station's Homepage (opens in new tab)
Use airbnb and other private renting platforms...
Private renting platforms are legal in Vienna, so why not use them? The same goes for alternative transporation providers such as Uber or Bolt.